Unzip many ZIP files in one go with 7zip.
Unzip many small ZIP files in one go. All ZIP files are in one directory:
First of all, we need to have 7zip installed. Then we open a command prompt in the directory. To do this, we simply type "cmd" in the address bar in Explorer and press Enter.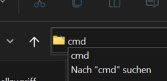 A command prompt opens, in which we enter the following command:

"C:\Program Files\7-Zip\7z.exe" e *.zip

Then the files are unpacked (in the same folder).