Where do I find the Autostart folder in Windows 11?
The Autostart folder is the simplest way to start programmes automatically in Windows. You create a shortcut in the Autostart folder and the linked programme is automatically started when the system starts.
In earlier versions of Windows, the Autostart folder was located directly in the Start menu.
Open Autostart folder
An easy way to open the Autostart folder is to use the "Run" dialogue. To do this, we press the Windows key + R. Then we enter the following command:

shell:startup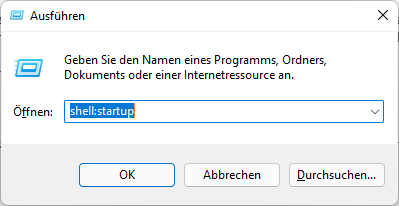 Now click on OK and an Explorer window will open.
To start a program, we can simply create a shortcut.