Format a USB stick or a hard disk larger than 32 GB with Fat32. Under Windows this does not work by default.
In Windows only NTFS or exFat are offered by default if the volume is larger than 32 GB. Technically there are no reasons except that with Fat32 the file size is limited to 4 GB. And the larger the hard disk or USB stick, the greater the probability that the user will also store such files on it.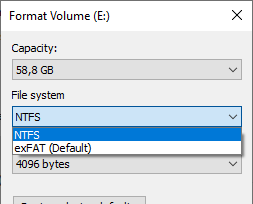 guiformat.exe for Windows
The easiest way to format with FAT32 is to use the Tool "guiformat". Download here!
After the download just start the tool, select the correct drive and click the start button.
Quick format should not take too long. After that the drive should be formatted as FAT32.