Do you have an older computer? Would you like to dispose of it? You no longer have to. With this programme, you can keep using your old computer! A guest post by Samir Ben Kheder.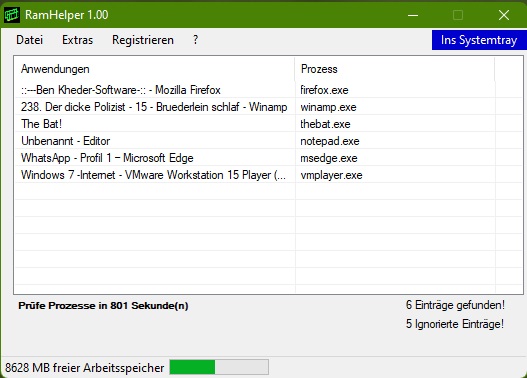 What does the programme do?
Quite simply, this programme checks if unnecessary processes are running. Then the user has the option to terminate these processes. You will find in the main window, at the bottom, how much memory is currently free.
What does this do for me?
Quite simply, if you terminate unnecessary processes. You will have more free memory for other processes. This makes your system faster again.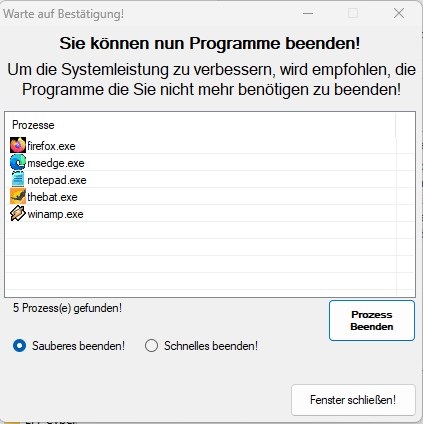 The free trial
You can download a free shareware version from the manufacturer's website. You can try out this programme for 30 days. After that, you can decide whether you want to purchase it.
Unlocking the full version
Once you have purchased an unlock code, you can enter it. Now you have unlocked the full version. You can use the full version as long as you like. A lifetime licence!
How does the programme find out which processes are active?
You can select the maximum number of processes that are allowed to run. There is also the setting that checks how much memory is occupied. For example, from 90%, then the process termination window is displayed.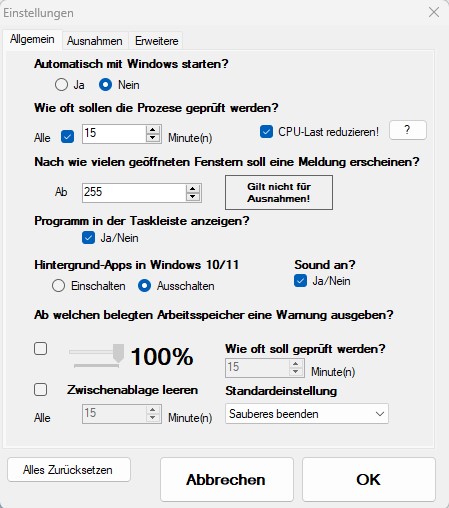 What should I do if my CPU is slow?
There is a function called Reduce CPU Load for this very reason! I recommend that you always activate this function. Then it will read out, only the processes when it really has to. This gives you a significantly lower CPU load.
There is also a game mode that you should activate when you play a computer game! Then you have more power available for the game.
Can you also protect processes from being terminated?
Sure, if you have an important process, you can of course protect it from being terminated. For example, if you have an MS Word document open, this programme will not be terminated. This way you protect yourself from data loss! All programmes that you want to protect can be added to the exceptions.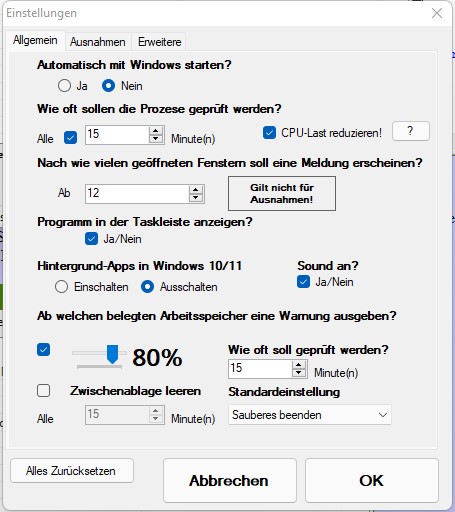 How can I make my system faster?
If you are using Windows 10 / 11, you can switch off the background APPS. Because of this, your system will then become a little faster again.
Can you also empty the clipboard?
Sure, you can set how often the clipboard should be emptied. When the clipboard is empty again, this also gives you more power for other processes.
Can I hide some processes?
Sure, if you have a process that you don't want to see in the programme, you can simply ignore it. Now this process is no longer listed.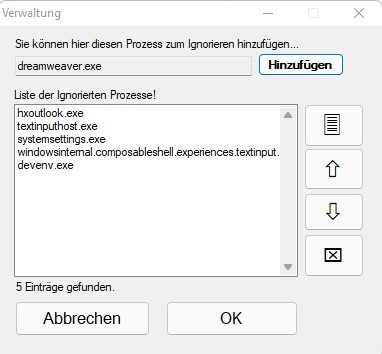 What can the "Processes" window do?
You will find all active processes listed there. And you can either terminate them cleanly! or terminate them quickly!
Among other things, you can right-click on the selected process to perform other tasks, such as Googling the process, displaying the path in Explorer, etc. .
You will also find a Remind me later! function here.
Don't forget updates
Please do not forget to check for updates occasionally. Because new functions, or bug fixes are always coming out.
Or other optimisations of the software.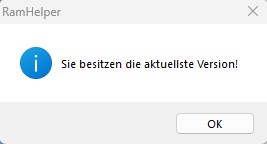 What can I find on the manufacturer's website?
On this website you will always find new software for Windows. You will also always find new APPs for Android. Currently, all my apps are free of advertising and 100% free of charge!
Here you will also find descriptions and videos of all my programmes and apps. A visit is worthwhile, in any case!
Summary
This programme is very helpful. Above all, you can continue to use your older computer. There are a lot of settings, including the creation of log files. You can use it with Windows 98 or higher. Of course, you can also use it with Windows 10 or Windows 11.
You can download it for free and test it extensively. I think you will like it. ?
Thank you for reading.