How do I determine the Bluetooth version in Windows? Which Bluetooth version does my computer support?
Recently I had a question about which Bluetooth version my laptop supports. A Bluetooth device uses Bluetooth 5.0 but was not recognised by my computer. So I wanted to see which Bluetooth version my laptop supports.
Open device manager
First we open the device manager.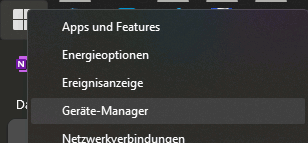 Call up the properties of the Bluetooth adapter
Here we now find the Bluetooth adapter. In my case it is a device from Intel. Otherwise there are other variants, e.g. from Realtek. Here we now call up the properties and switch to the extended tab. Here we find the indication "LMP", hence a number sequence.
The first number is interesting.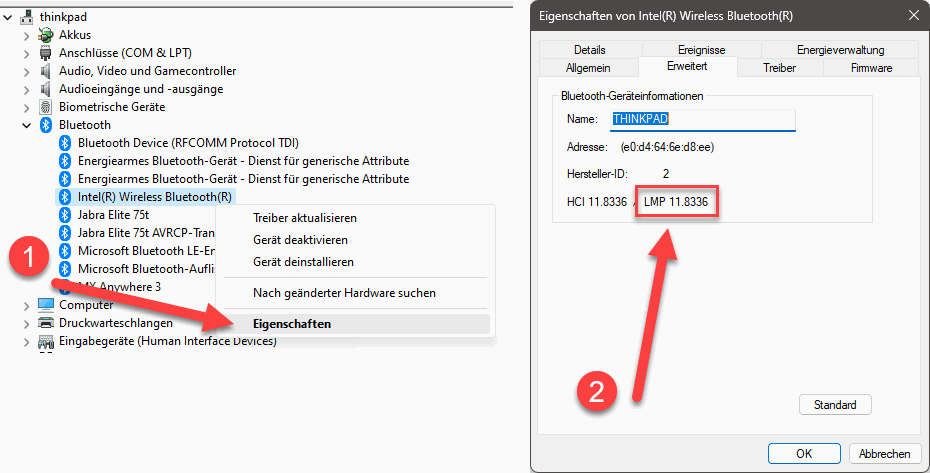 List of Bluetooth versions
This can now be used to determine the version of the Bluetooth protocol. In my case, it is LMP 11, i.e. Bluetooth 5.2. Quite modern, it did not solve my problem with the Bluetooth device in the end.
LMP 0 – Bluetooth Core Specification 1.0 b (withdrawn)
LMP 1 – Bluetooth Core Specification 1.1 (withdrawn)
LMP 2 – Bluetooth Core Specification 1.2 (withdrawn)
LMP 3 – Bluetooth Core Specification 2.0 + EDR
LMP 4 – Bluetooth Core Specification 2.1 + EDR
LMP 5 – Bluetooth Core Specification 3.0 + HS
LMP 6 – Bluetooth Core Specification 4.0
LMP 7 – Bluetooth Core Specification 4.1
LMP 8 – Bluetooth Core Specification 4.2
LMP 9 – Bluetooth Core Specification 5.0
LMP 10 – Bluetooth Core Specification 5.1
LMP 11 – Bluetooth Core Specification 5.2