Inexpensive notebook with good equipment.
Acemagic, previously known for compact computers, has a solid, affordable notebook on offer in the form of the AX15. We took a closer look at the model.
Note: The manufacturer has provided us with a voucher code: "A5IWAJIE". This means the notebook costs just under 300 euros until 06.10.2023.
The technical data
Here are the technical specifications. They are quite solid, a modern N95 processor from Intel. It's no rocket ship, but it delivers enough power for normal office applications. The other features are also good. The manufacturer has given the device a large SSD and 16 GB of RAM are also very solid. Another positive feature is the pre-installed Windows 11 Pro instead of the Home Edition.
| Feature | Details |
| --- | --- |
| model | ACEMAGIC AX15 |
| Processor | Intel 12th generation Alder Lake N95 |
| Graphics | Integrated Intel UHD graphics (up to 1200 MHz) |
| Memory | 16 GB DDR4 |
| Memory | 512 GB M.2 SSD (expansion with 128 GB TF card possible) |
| Operating system | Pre-installed Windows 11 Pro |
| Display | 15.6-inch with thin bezel and built-in 720P front camera |
| Connection | Bluetooth 5.0 |
| Battery life | 38 Wh (over 8 hours) |
| Weight & Thickness | 1.6 kg and 0.66 inches thin |
| Design | Metal design of the AD shell (pressure-resistant & collision-proof) |
| Hinge | 180° flat hinge |
Hardware, scope of delivery, workmanship
The notebook comes in plain packaging. In addition to the notebook, a USB-C power supply and various keyboard covers and stickers are included. The reason for this is that the keyboard has an American layout. If you like, you can either put a keyboard mat on it or label the keys yourself with stickers. I decided against this because I type blind anyway.
Otherwise, the device looks good for the price range. It is very well made for a device in this price range, and it also looks very smart. The edge of the display is thin and for its size it is much more compact than my Thinkpad, for example.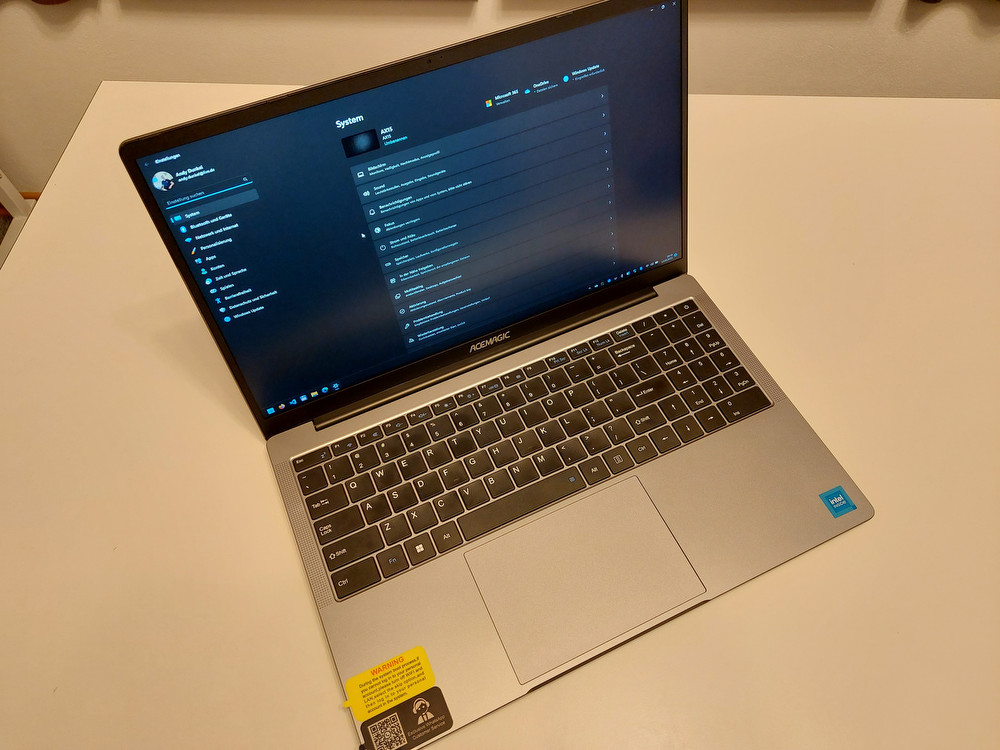 Charging is done with USB-C. There are also other USB-A ports on the sides. A card reader is also on board.
The display is also convincing; it is sufficiently bright and easy to read. I have seen much worse displays in this price category. An external display can be operated via the HDMI connection.
There is no keyboard illumination in this price range. Otherwise, it is very pleasant to type on. Only the number pad is a little narrow and lacks the Enter key.
In addition to the keyboard, the device has a large touchpad that works very well. A jack is also available.
The underside is held in place with normal screws. If you need to expand the device or change the battery, you should be able to access the inside easily.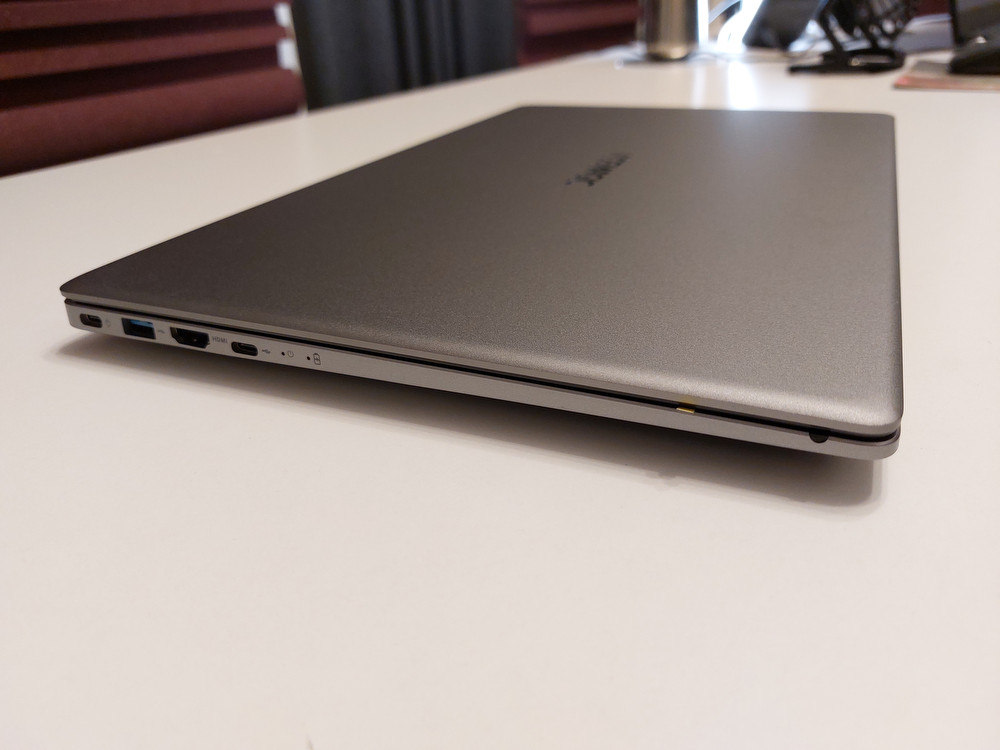 Practical use
In practice, I was particularly curious about the processor. However, the Intel N95 chip delivers enough performance for normal applications in practice. The processor has 4 cores at its disposal and reaches a maximum boost clock of up to 3.4 GHz.
Sure, it's not a rocket, but it doesn't perform too badly in the end. My workstation at work from a few years ago delivers similar performance, so things are evolving. Certainly not a computer for video editing, but it's enough for normal tasks.
Windows 11 Pro is also on board. So I could encrypt the hard drive with Bitlocker for when I'm on the road.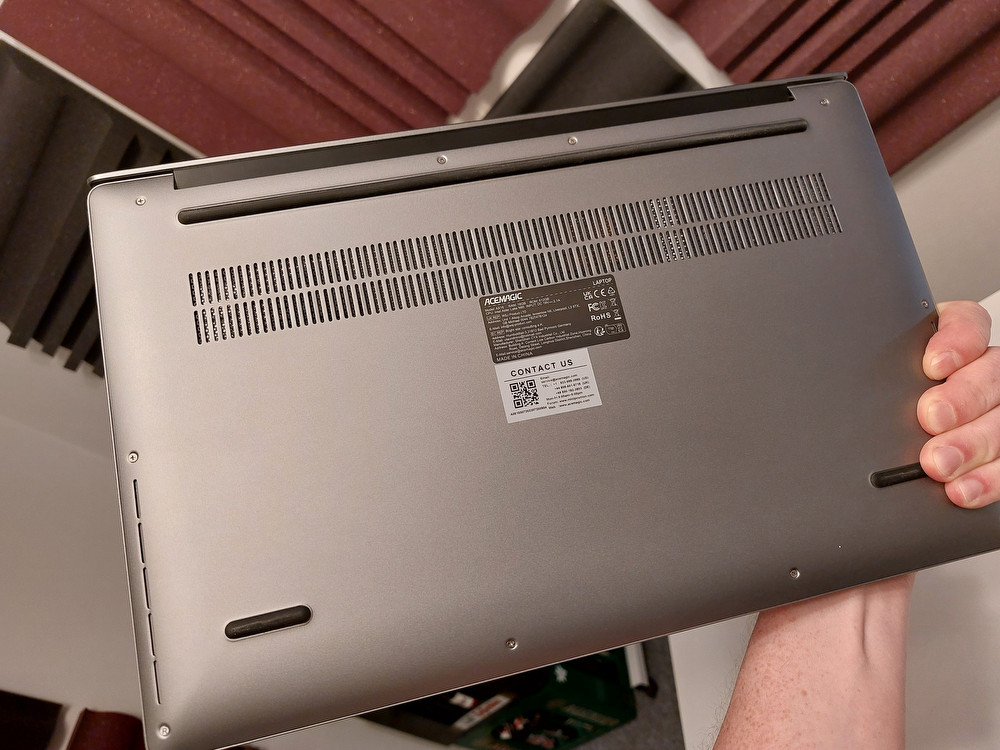 The display has a Full HD resolution. Perfect for a notebook of this size. The colours are displayed well. A webcam is built into the display frame. This does not deliver miracles, but it is enough for video conferencing.
You have to do without gaming in this price range. Older games run with the Intel UHD graphics. A round of Halflife 2 is inside.
Summary
The Acemagic AX15 notebook presents itself as a solid option for price-conscious buyers who don't want to sacrifice good features. With its modern Intel N95 processor and 16 GB RAM, the device is well equipped for everyday tasks such as office applications. Particularly noteworthy are the generous 512 GB SSD and the preinstalled Windows 11 Pro. The design is convincing with its simple but high-quality metal design and the thin display frame design.
Although the AX15 does not have a backlit keyboard and is not suitable for current games or demanding video editing, these trade-offs are to be expected in this price range. There are minor deductions for the US keyboard layout, although the manufacturer accommodates this with included keyboard covers and stickers. All in all, the Acemagic AX15 offers a very good price-performance ratio and is worth recommending, especially for beginners and all those who are looking for a reliable work device.
More pictures