You need a new app to open this me.blueone.win link.
I recently tested some software and then uninstalled it. Apparently something got stuck here though. When I started Windows I got the following error message: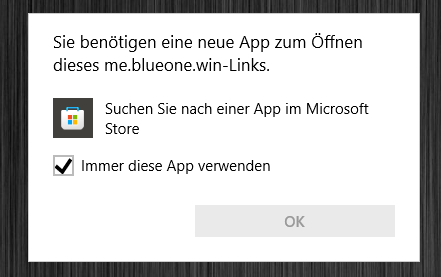 Something like this is always a sign that something got stuck in the autostart. In this case, the solution is to look in the registry. We navigate to the following folder

Computer\HKEY_CURRENT_USER\Software\Microsoft\Windows\CurrentVersion\Run

Here we find the entry "BlueMail" which is responsible for the error message. After this is deleted, the entry disappears.