My new action cam for cycling tours.
I regularly go on longer tours by bike, at least in summer. Every now and then I record them and edit them later. You can find a few sample videos at the end.
I used to have a simple action cam from Cisco. Pull it out of the bag, record something, switch it off, put it back in the bag. I don't need many settings. It's more important on the bike that I don't have to fiddle around with anything. That would be too dangerous.
I had also tried it once with the smartphone. I have it anyway and the camera quality is good.
However, it is always a bit more fiddly to record the video here. There is a shortcut for the camera with the press of a button, but then it was usually necessary to activate the video mode again briefly with the touch of a button.
In addition, there are no practical holders for the smartphone on the bike. I also like to clip the camera for a downhill ride.
Anyway, a new action cam was needed. I got the Action Cam SJCAM C300. It's not too expensive and comes with lots of accessories.
Scope of delivery, hardware
Let's start with the scope of delivery, which is impressive. With other models, there are usually a lot of additional costs for various mounts, waterproof housing, etc. I can't even list all the things that come with it. I can't even begin to list everything that is included. I already mentioned the waterproof housing, other mounts, magnetic mount, belt clip, you name it. I also have a tripod with remote control and a 64 GB memory card.
One is somewhat perplexed by the packaging. It appears to contain two cameras, one small and one large. When unpacking, it quickly becomes clear that the camera is modular. In principle, two batteries are included. The small one keeps the camera compact and suitable for the numerous mounts. The larger one expands the camera with another display, recording button. I usually use this configuration, as it fits well in the hand. The camera also has a tripod thread, which is perfect.
Basically, I don't think I'll be tempted to reorder any accessories, everything you need or don't need is included.
Commissioning and settings
The start-up is simple, insert the appropriate battery, insert the memory card, switch on. After a short wait, the picture is set on the display. The display is not particularly large, but is operated by touch, which works well. A few basic settings should be made in any case, such as date and time.
When recording, it is advisable to look at the desired resolution and frame rate. The highest resolution is 4K with 30 frames. Smaller resolutions with more frames are also available, e.g. Full HD with up to 120 frames, if you need slow motion. My recommendation is to test the resolutions beforehand, some don't have widescreen, for example, which I don't think is so nice, but was set on my first bike tour with the camera.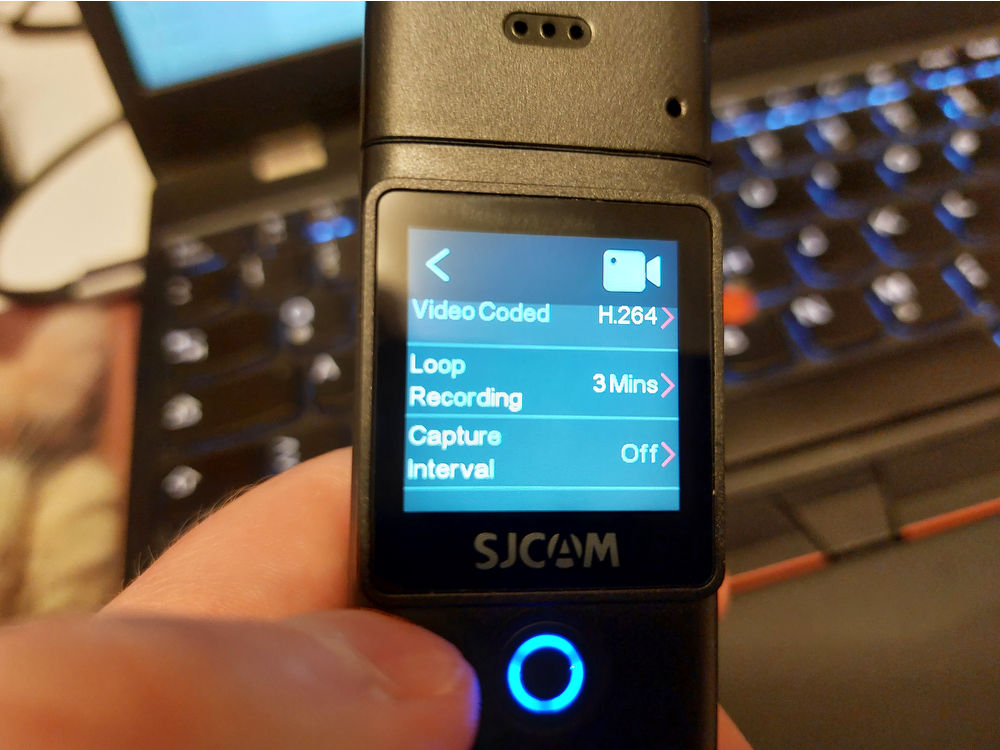 These modes are also available directly, so the camera can also be used for time-lapse recordings or as a dashcam.
It is important to check whether the date and time should be included in the video. This is deactivated by default. For cycling, I activated the motion compensation, otherwise it was quite jerky on the bike.
In addition to videos, photos can also be taken, but I don't need them myself.
Recording
For cycling tours, I have configured a fixed video mode. Then I just have to pull the camera out of my pocket and start recording. Here is my only gripe, the switch-on process takes a good 2-3 seconds too long for me. However, I have now got used to this and simply pull the camera out of my pocket.
On the display you can see the current recording. The sound is not so important to me because it only hisses on the bike anyway, but in my tests the microphone was surprisingly good.
I find the picture quality very good, especially for daylight shots.
Battery life
Fortunately, the battery lasts a long time. Even on longer bike rides, it hardly went flat – I've had other experiences with competitors on the market. The small battery means that I can take a second battery with me if necessary, which makes the camera smaller, but it's better than not taking any pictures at all.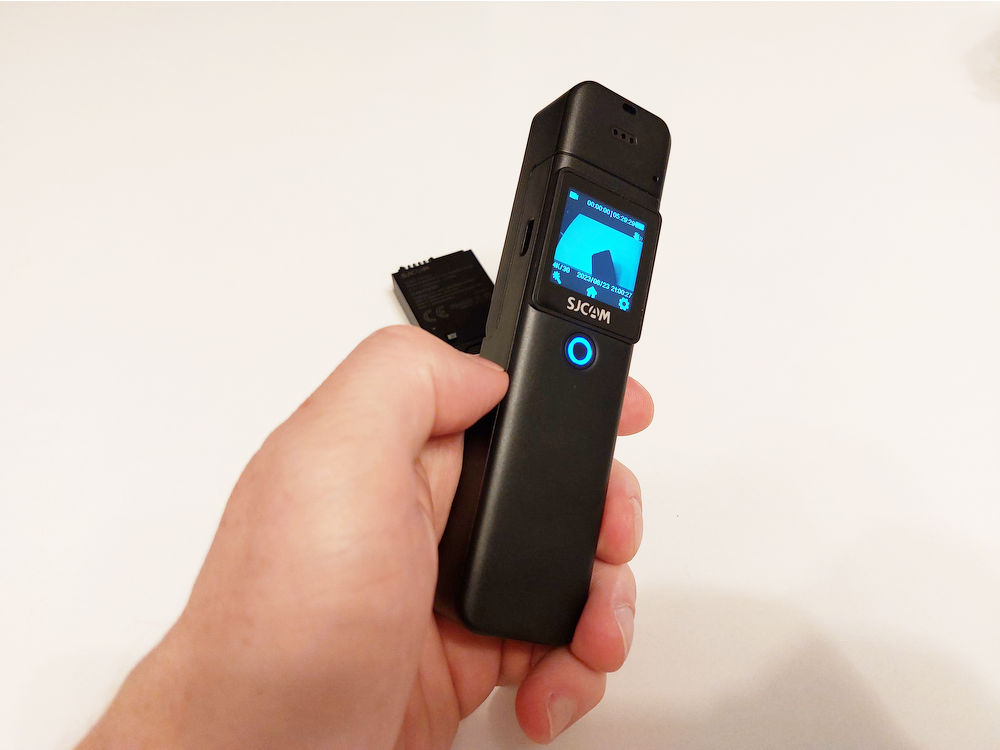 Transferring pictures and videos to the computer
The pictures can be transferred to the computer via USB-C or WiFi. Wifi can be configured in the settings. For simplicity's sake, I just use a USB cable. The data is transferred quickly. When I plug it in, I am asked whether I want to transfer data or use the thing as a camera on the computer.
Summary
Overall, I'm very satisfied with the thing, I've had it in use on a few bike tours now. The camera could start a bit faster for recording, but otherwise it's easy. Switch it on, record and pack it away again. I find the many accessories particularly positive, nothing is more annoying than having to buy all the stuff separately. The idea of having the camera in two sizes through an adapter is also quite smart.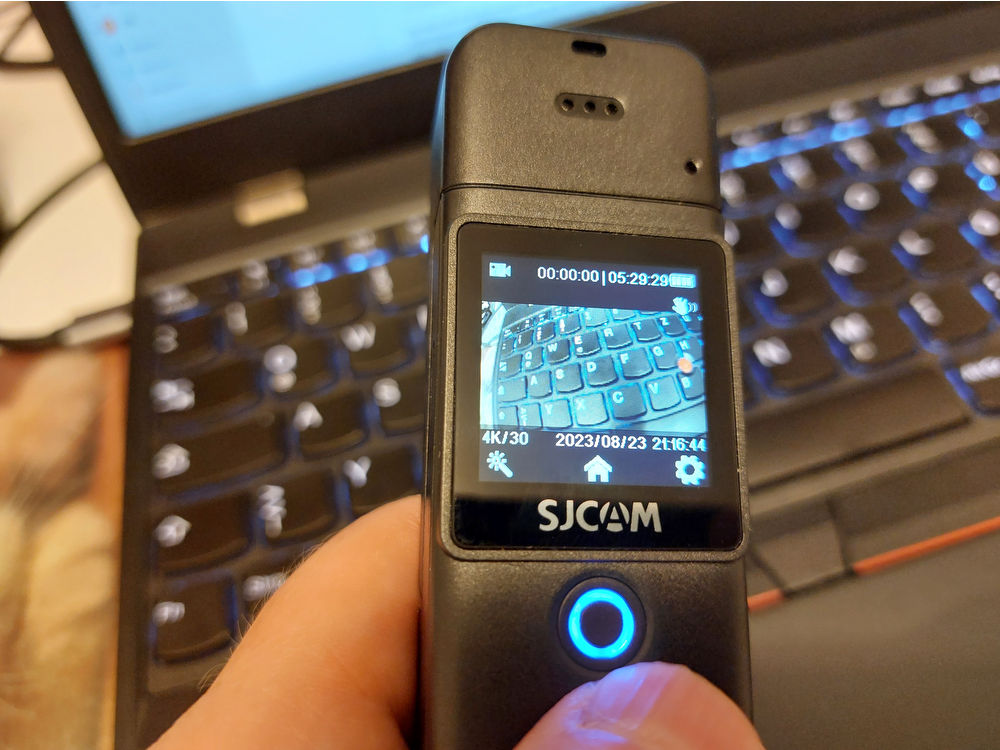 The picture quality is also good. You have to be a bit careful with the many settings. I had activated automatic recording, so the camera always started recording as soon as I moved the thing. Support then recommended that I reset the camera to factory settings. Normally I don't like to do this, but in this case it was a good tip, as settings such as date and time are retained.
In short, if you're looking for an affordable action cam with lots of accessories, take a look at the SJCAM C300.
SJCAM C300 Action Kamera 4K30fps, 1.33'' Dual...
【4K-VIDEO & 20MP-FOTO AUFNEHMEN】: SJCAM C300 Action-Kamera kann Hyper-Qualität 4K 30Fps Video...
【Large Capacity Continuity Dual Battery】: 2023 neuestes Außendesign auf dem Markt, C300...
【Wasserdichte Unterwasserkamera】: In Anbetracht der Sicherheit der Kamera und der Bedürfnisse...
Sample videos
And here are a few more videos of my cycling trips, made with the camera:
More pictures