What is the Amazon Basics travel backpack good for?
For a short flight (5 days) I wanted to travel with hand luggage only. Usually the choice here is a small suitcase, but this has the disadvantage that I don't have a backpack at my destination. However, my standard everyday backpack is too small for luggage over several days.
On Twitter, I have seen numerous advertisements for hip travel backpacks. Including nice videos of what all fits in them. The cost was usually around 100 – 150 euros. So I went to Amazon and typed in travel backpack. Here, too, there are lots of suitable offers, but I ended up with the Amazon Basics model.
The travel backpack from Amazon
With hip backpacks, you're likely to pay a lot for advertising and marketing. The Amazon Basics backpack costs just under 40-50 euros, depending on when you look in. The backpack is available in different colours. I opted for blue.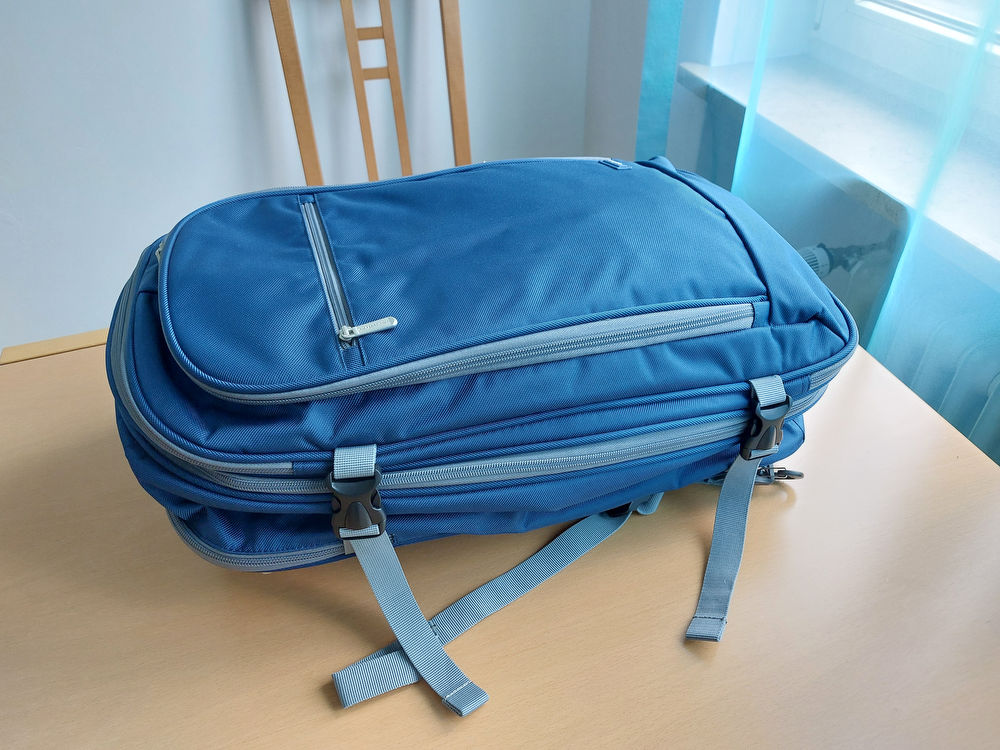 Compared to a normal backpack, it is slightly larger. It can be used as a bag or a backpack. The back straps also simply disappear into a compartment. I can't complain about the workmanship. Everything is of high quality and seems stable.
I like the concept as well, there are different compartments for clothes in the main part. A laptop compartment. Small items can be stored in various compartments at the front. For my 5-day tour, I had the usual clothes with me: pants, T-shirts, soft-shell jacket, small toiletry bag, socks and jumper. Plus laptop, charger, charging cable, mouse, powerbank. Everything fit in well. The backpack can be expanded via a zip.
Amazon Basics Handgepäck Reiserucksack, mit...
Reiserucksack mit innerem Laptopfach mit Reißverschluss als Handgepäck; sehr flexibel und leicht...
Hauptfach mit Reißverschluss-Netzfach, optionalem Mittelfach und Kompressionsgurten innen und...
Vorderseite mit Aufbewahrungsfach und von oben zugänglichem Fach für einen leichten Zugriff auf...
Use on the road
In the end, I managed to accumulate a weight of just under 8 kg. The backpack was still very comfortable to carry. It is bigger than a normal backpack, but you still have a practical backpack at your destination. I think it's also practical for shopping by bike.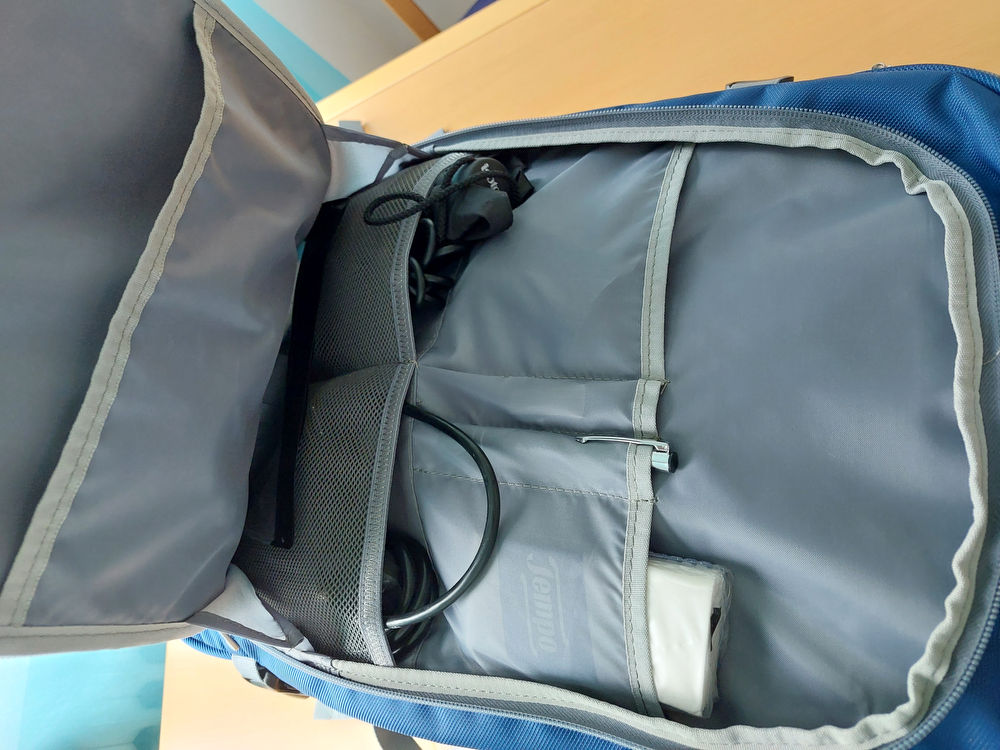 The different compartments also made it easy to pull out the laptop and power supply on the go without messing up the whole folder.
Conclusion: Absolutely recommendable. Price is cheap, quality is good and I don't think the hip expensive ones can do any better. I think it will also serve me well for other trips.
Cipway compression packing cube set
To go with the backpack, I also popped into the "customers also buy" section. Practical small bags for individual items and clothing. Alright, co-ordered for 25 euros. 🙂
Are they practical? Yes, most of the time I wanted to check if XYZ was packed after packing, so I pulled everything out again and created a mess. With the panniers I have everything together and packed.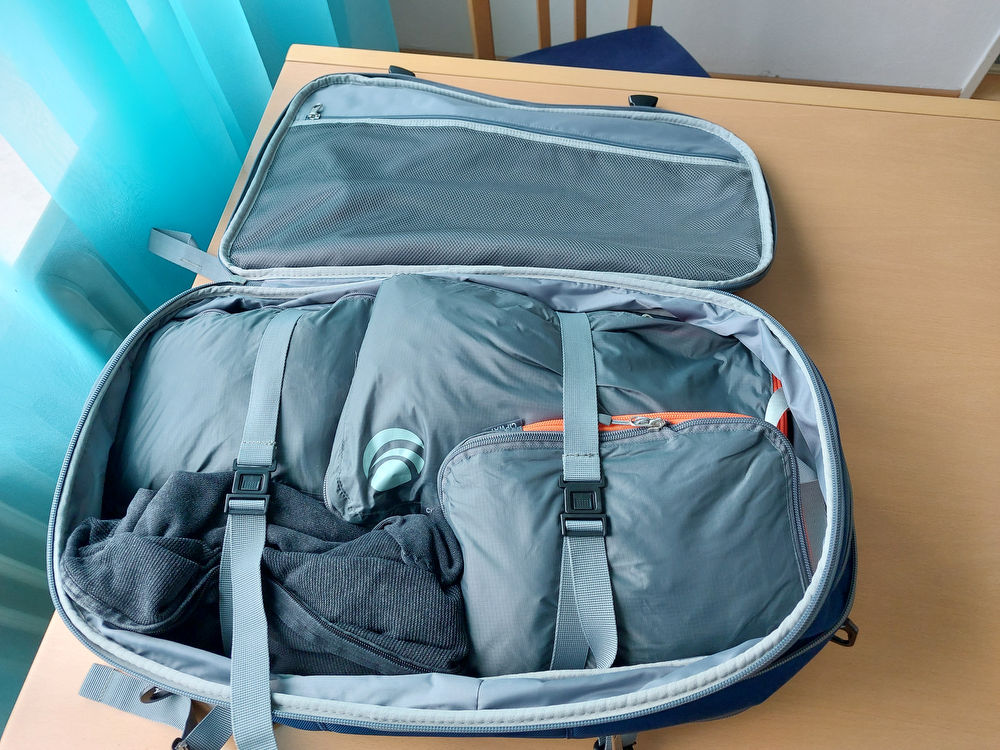 The compression is achieved by means of a second zip. Does that do anything? Not really, or only a little. But still a practical thing.
Sale
Cipway Kompressions-Packwürfel-Set, ultraleicht,...
【Mehr mit weniger Platz】 Sparen Sie bis zu 60 % Platz, indem Sie die Packwürfel über die...
【 Maße 】 Medium Packwürfel Maße komprimiert: 25,4 x 17,8 x 2,5 cm, ausgedehnte Größe: 25,4...
Vielseitig und praktisch: Nicht nur ein Reise-Organizer für Koffer, auch perfekt für Camping,...
More pictures