Virtual DVD drives for Windows are plentiful, or the function is already built into Windows. But what about a virtual burner?
The other day I wanted to test the old backup function of Windows 11. At the end of the process, there is an option to burn a bootable media. Burn? I remember darkly, we used to do that and copy DVDs ourselves. All legal of course. Meanwhile, of course, my computer no longer has a burner, the option to simply create an ISO file, of course, does not exist.
Now there are lots of software and drivers to include ISO files as a virtual DVD drive in the system, but are there also virtual burners? Which create an ISO file at the end of the "burning process"? There are!
TotalMounter
Googling for a virtual DVD burner, we find numerous software. Much of it is paid, but since I do not need the thing all the time now, I did not want to spend money. After some searching I found TotalMounter.
The software seems a bit old-fashioned and still talks about Windows 7 in the system requirements and the download button is titled "Download Trial". Nevertheless, the software also works without problems in Windows 11 and is also completely free.
A device driver is installed during the installation, this has to be confirmed briefly.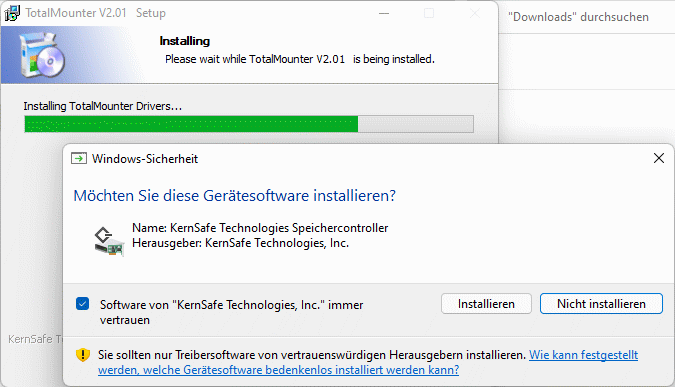 After starting the program, a virtual drive can be created. In addition to the possibility of creating "normal DVD drives", virtual CD or DVD burners can also be created.
For the virtual blank DVD we can specify the size, type and location.
Done! The drive is now mounted. Software that wants to write things to DVD can then write to the virtual drive. So we end up with an ISO file which we can then use further.