Windows Defender or real-time protection provides more security on Windows systems and should therefore run as a matter of principle. Otherwise you quickly run the risk of catching something on the internet. Nevertheless, there are reasons here and there to deactivate it completely. Everyone must weigh this up for themselves, but one reason is, for example, the sometimes high system load or the fact that you are already using another antivirus product.
Until now, it was possible to deactivate Defender completely and permanently, but this is different under Windows 10. If you deactivate Defender, it automatically reactivates after some time.
But you can also permanently switch off Defender under Windows 10. A few steps are necessary for this, which I explain below. Important: You must be an administrator to be able to carry out the following steps.
First we open the group line editor. This can be done by pressing Window key + R. In the following run dialogue, enter "gpedit.msc".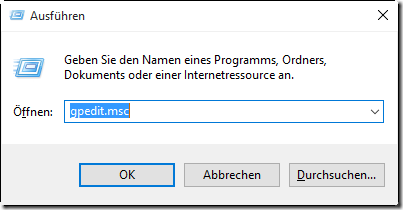 In the group line editor we now navigate to "Computer configuration/Administrative templates/All settings
On the right side we now look for the setting "Disable real-time protection":
Double-click to open the detail page. To deactivate the Defender or the real-time protection, the setting must be set to "activated". "Deactivated" reactivates the Defender.
Now you only have to restart the computer.
A look at the settings now shows that the entire item is deactivated: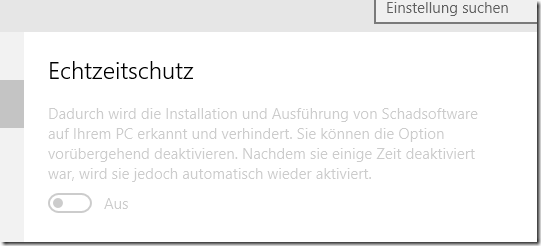 Unfortunately, this path can only be followed with the Professional versions of Windows 10. But even Home users need not despair, they can use the free app NoDefender.
Sale
Bestseller No. 1
Microsoft Windows 11 Home | 1 Gerät | 1 Benutzer...
Aufgeräumt und ruhig. Erreichen Sie mühelos Ihre Ziele dank des überarbeiteten Designs von...
Biometrische Anmeldung und fortschrittlicher Schutz vor Viren. So sind Sie umfassend gegen die...
Nutzen Sie mit Snap-Layouts Ihre Bildschirmfläche optimal aus.
Bestseller No. 2
Mr. Tequila
Amazon Prime Video (Video on Demand)
Kate Beckinsale, Charles Dance, Alex Kingston (Actors)
Sam Donovan (Director) - Harry Williams (Writer) - Eliza Mellor (Producer)
Bestseller No. 3
Microsoft Windows 10 Pro 64bit
Persönliche Assistentin - die Bedienung von Windows 10 PCs und Tablets noch einfacher
Neuer Webbrowser - erleichtert Suchen, Lesen und Teilen von Informationen
Windows 10 wird neue universelle Anwendungen bereitstellen – Fotos, Videos, Musik, Karten,...