Today I connected a USB hard drive to my new Fritzbox and set it up as a NAS. However, access was not successful. What was going on?
Instead of a connection, I only got the following message:

Bestseller No. 1
Network error
\\fritz.nas could not be accessed.

Make sure the name is spelled correctly. There may be a network error. Click on "Diagnosis" to identify and resolve the network problems.

Error code: 0x80004005
Unknown error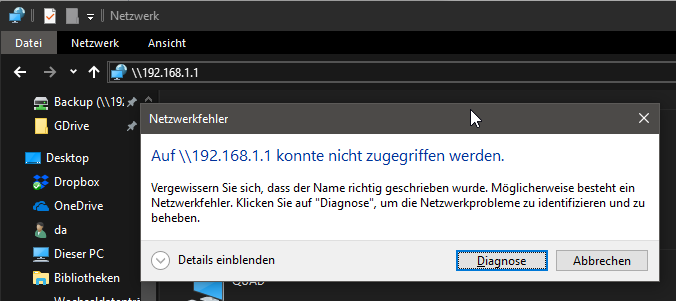 So checked all the settings on the Fritz Box. Everything fits. After a bit of searching on the Internet, I found out that the Fritzbox only supports the SMB1 protocol. However, this is not necessarily installed with Windows 10. By the way, the same applies to some NAS systems; I also had problems accessing the OpenMediaVault server.
Fortunately, SMB1 can be installed quickly. To do this, we have to open the old control panel. Simply enter "sys" in the start menu.
Then we go to "Programmes and Features":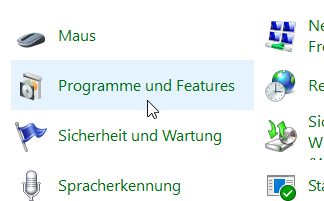 Here we now have to "Activate or deactivate Windows features":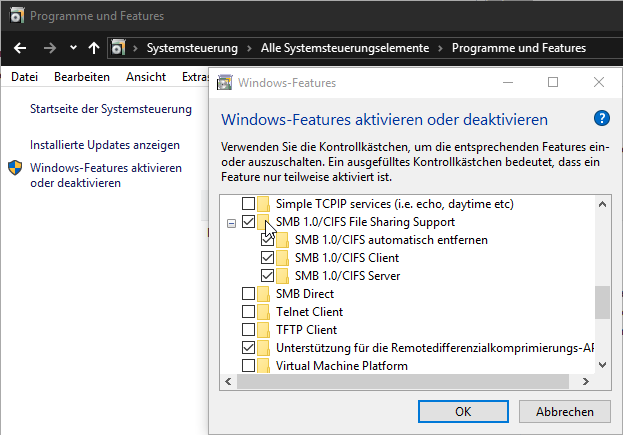 Here there is the sub-item "SMB 1.0/CIFS File Sharing Support". We activate this. The client is sufficient, the server is only needed if you want to offer shares for older clients yourself. Otherwise it does no harm to install it as well. After the installation, a restart is required.
Afterwards, access to the Fritz Box works without problems. If you still have problems, you can use the IP address instead of \\fritz.nas, e.g. \\192.168.1.1.
Unfortunately, AVM still uses the old protocol. This lacks, for example, encryption, which is implemented in SMB 3.0. Not a big problem for the home network, but still a shortcoming.

Sale
Bestseller No. 1
AVM FRITZ!DECT 302 (Intelligenter...
Smarter Heizkörperregler für das FRITZBox-Heimnetz, automatische und präzise Steuerung der Raum-...
Einfache Montage und Einrichtung an allen gängigen Heizkörperventilen mit Anschlussgewinde,...
Verbindung mit FRITZBox via Tastendruck und bequeme Konfiguration über die...
Sale
Bestseller No. 2
AVM FRITZ!Repeater 1200 AX (Wi-Fi 6 Repeater)...
Ultraschnelles Wi-Fi 6 im gesamten Heimnetz sowie intelligente automatische Bandauswahl...
Innovatives Wi-Fi 6 ausgelegt für ein anspruchsvolles Heimnetz mit einer Vielzahl an...
Unterstützung 160 MHz breiter Kanäle für WLAN mit bis zu 3.000 MBit/s (WLAN AX) sowie...