I had a small problem with my sound card on my laptop. Despite 100% volume, the sound through my headphones was too low. In a quiet office, it was no problem to hear the voices in the podcast on the train with background noise. A temporary remedy was a USB sound card. But that can't be the solution.
Video tutorial
Instruction
At 100% volume, no reasonably loud sound came out of my headphones, I blame it on the sound card drivers, I've had problems here before with the Realtek sound card not outputting sound from one day to the next.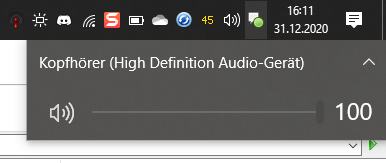 What to do? In addition to the USB sound card, the whole thing can also be solved in software. The free software EqualizerAPO can help us here, as in our article on bass amplification.
First we download the software from the project page. Then we install it.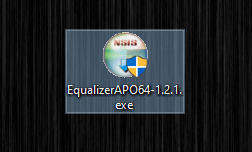 After the installation, we find the software in the Start menu, but there as "Configuration Editor.
When we first start the software, we are greeted with a list of sound devices, here we select the playback device or devices we want to configure. Don't worry, we can always change this setting later if we have selected the wrong device here.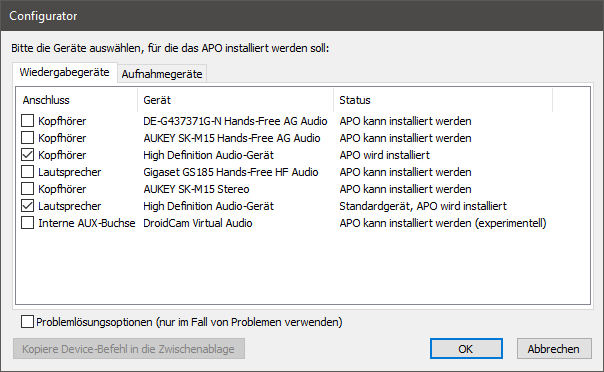 Then the software starts. Here we check the correct device again and finally add a simple filter via the plus button: Preamp.

Then we can set the gain with a slider. The changes take effect immediately, i.e. if you have headphones with music on, you should make the changes carefully so as not to blow your ears off.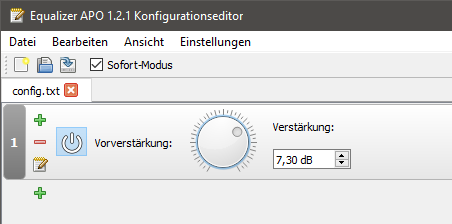 Sale
Bestseller No. 1
UGREEN Externe USB Soundkarte Klinke USB Adapter...
Externe USB Soundkarte: USB Stereo auf Audio Adapter ist für USB Schnittstelle für 3,5 mm...
USB Anschluss: Externe USB Soundkarte kann Ihre Fehlerhafte Soundkarte oder Audioanschluss ersetzen...
Fantastische Klangqualität: USB Soundkarte Schützt gegen elektromagnetische Störungen und...
Sale
Bestseller No. 2